HISTORY
The South Restaurant is home to owner and former Guard to the Denver Broncos, Jerry Sturm. During his 15 year professional career he played in 2 Pro Bowls. After being a part of many other NFL teams, Jerry finally made his way back to Denver to open one of the best American/Mexican restaurants in town!
Jerry Sturm
Position: C-T-G
Height: 6-3 Weight: 260 lbs.
College: Illinois
NFL:
Denver Broncos 1961-1966
New Orleans Saints 1967-1970
Houston Oilers 1971
Philidelphia Eagles 1972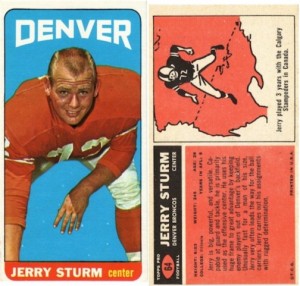 His son, Brett, was a Safety at San Diego State University from 2002 – 2006. In 2005, he was second on the team in interceptions with three, including one for a touchdown, and had 26 tackles. He was honored as Defensive Player of the Year in 2006 recording 82 tackles, 1 sack , and 1 INT. He now helps Jerry run the restaurant and continues the legacy of "The South".
Brett Sturm
Position: Safety
Height: 6-2 Weight: 220 lbs.
College: San Diego State
OUR FOOD
Explore the wonderful menu at The South Restaurant where we have everything from deep friend Jumbo Shrimp and Pork Tenderloin to Fillet Mignon and Sizzling Steak Fajitas. And if you like your Mexican food hot, let us know! Because we can add the heat!
Come see why we continue to be the best and always have our customers wanting more! We look forward to your visit today!